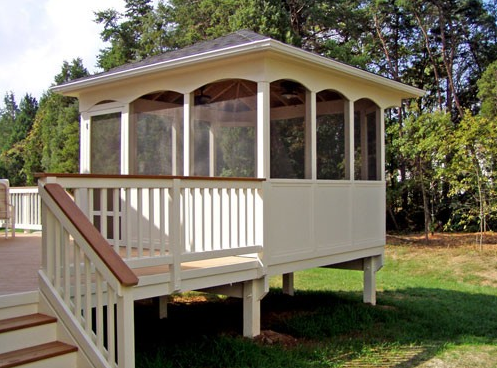 Before summer in Fairfax officially begins, you might want to prepare your screened in porch for the upcoming season. For those who have not used their screened in porch for a few months, it will need a little tending to to ensure it looks its best. Follow our industry leading tips and tricks on cleaning your space and your outdoor furniture.
During the off-season, screened in porches see a lot of wear and tear brought on by the elements. Dirt and debris will accumulate, and without proper care, it could be damaging to your porch. The experts at Distinctive Deck Designs recommend doing a deep cleaning it at the beginning and the end of the season. This will keep your porch looking like new for years to come. Follow these steps to successfully remove stubborn dirt and grime. These tips will also help protect your porch spaces and outdoor furniture from safety risks.
Step 1: Start by moving furniture and rugs out of the space. The first step involves cleaning the floor, walls, and screens so you'll want a clear room to get every inch cleaned. Make sure you leave the furniture outdoors before you clean it. Bringing dusty furniture into your home can bring allergens inside. Once everything is cleared away, start dusting light fixtures, ceiling fans, walls, and the ceiling to clear away any cobwebs and dust. Next, sweep the floors with a stiff broom to completely clean any debris.
Step 2: Use a regular garden hose to spray down your porch to rinse the dirt and grime away from the previous dusting step. We do not recommend using a pressure washer as the force can damage the finish on composite decking. Instead, if there are stubborn stains or sticky residue, use a solution of warm soapy water to lightly and scrub away these blemishes with a stiff, nonmetal brush. Homeowners should not use a cleaning solution with ammonia or bleach as these chemicals can also be harmful to your deck flooring.
Step 3: Cleaning your screens should be done with a hose as well using a specific motion that will push the dirt and dust down and out of your screened in porch. Using a jet or slightly pressurized setting on your hose, start in the top left-hand corner and move your hose to the right. Working top to bottom will help move the dust out and away, keeping the inside of your space nice and clean. If there is any tough, stuck-on gunk on your screens, use warm soapy water and lightly scrub until it comes off. Be sure not to use too much pressure as this can tear or puncture your screen. For those that have removable glass panels, remove to give them a good two-sided wipe down with your favorite window washing solution. Let the screen and glass panels completely dry before resetting them if desired.
Inspect the screens for any damages that might have occurred during the cleaning process. If you find any rips or tears in the screens, contact the experts at Distinctive Deck Designs to instruct you further on what actions to take.
Step 4: Now that your screened in porch is clean, you'll want to move on to your furniture and rugs. Outdoor furniture is made to be resilient when it comes to element exposure, so no matter the material, they will be fairly easy to clean. For metal and plastic furniture, you can use a hose on any pressure level to wash away stains and dust. Abrasive brushes can scuff the surface so avoid them and opt for a softer cloth instead to remove stuck-on dirt. If you have wicker furniture, you'll want to skip the power wash altogether and use a mild soap mixed with warm water. Using a soft brush or sponge and gently wash the furniture. For fabric cushions or seat covers, consult the manufacturer's instructions for the appropriate cleaning recommendations. Most synthetic fibers can be hosed down or gently scrubbed with soapy water. Let all furniture and cloth materials air dry before returning to your porch.
Shake your outdoor rugs out to free loose and compacted dust or dirt. Make sure you're doing this away from any entrances to your hose to ensure no allergens make their way into your interior living areas. Feel free to use a shop-vac or vacuum designated for the outdoors to vacuum your rug to avoid cross-contamination.
Step 5: After the area has dried, and so has your furniture, place all items back into your screen porch. Start with your rugs and then bring in the bigger pieces of furniture such as chairs, loungers, and side tables.
The team at Distinctive Deck Designs has years of experience building screened in porches. After an in-home consultation, our team can provide a custom porch design. Fairfax residents love screened in porches because it offers protection from the elements, while still being able to enjoy the great outdoors. To schedule your free consultation, please contact us today.