When deciding on the materials to use for a stone patio, there are few things to consider. Maintenance, style and budget will all factor into your decision. Distinctive Deck Designs uses quality materials from reputable manufacturers like Techo-Bloc and EP Henry to create beautiful patios that you and your family will enjoy for years to come. The following are the four most popular stones used in creating patios in the Fairfax area: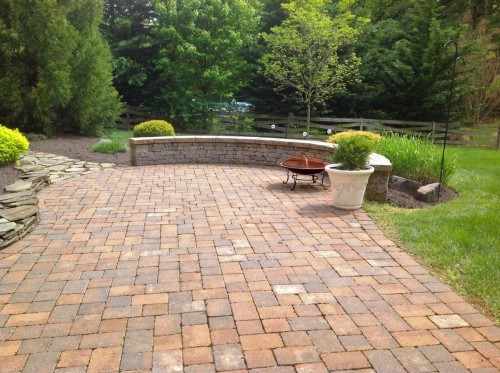 Stone Pavers
Usually regarded as the most versatile and popular material, stone pavers come in a variety of sizes that can be used to create beautiful designs and patterns.  We recommend using engineered patio pavers for your driveway or areas with heavy traffic. This type of stone is strong, durable and can withstand everyday use without chipping or breaking. Permeable pavers are perfect for walkways, flower beds, curbing and especially patio surfaces. They are custom-designed to help improve water drainage by allowing water buildup to pass through the stones to the underground structure. This provides a preventative measure for heavy Northern Virginia rains.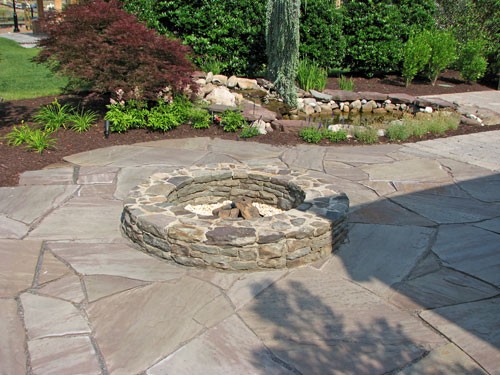 Flagstone
If you're looking for an organic or natural patio, look no further. Man-made flagstone is perfect for patios because it maintains a unique, natural-looking shape. These stones are known for being abstract and come in neutral earth tones. Because Flagstone pieces are larger, patio designs can be installed quickly in large areas. Flagstone installation is done with a neutral mortar to connect it with another surface. We pack the area beneath it for a strong surface and use cement or commercial-grade mortar to help secure each piece. Flagstone must be sealed routinely to prevent environmental erosion.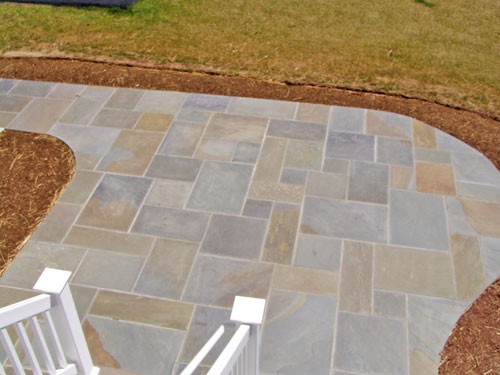 Slate
Slate provides a very modern and streamlined look to your patio or walkways. Typically appearing in shades of gray, slate can be used for patio surfaces and walls, outdoor fireplaces. Just like flagstone patios, slate pieces are installed using commercial grade mortar or cement. Design possibilities with slate are endless since it can be cut and trimmed to the perfect size with ease. If you have a specific design in mind, we can help bring it to life. Slate requires routine sealing to protect the stone from environmental erosion.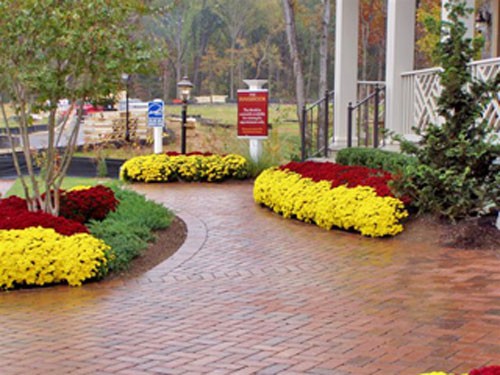 Brick
Brick patios are popular for a reason. They are a classic material, which makes it easy to style them in a modern or traditional way to fit your tastes. Brick also features the most uniform color because it is mass-produced. This can be the most budget-friendly option on our list and comes in many sizes and styles to accommodate a design you have in mind. Used almost everywhere in landscaping, we can install brick patios, walkways and pathways, and flower beds. Bricks are great for Northern Virginia weather, as they can withstand heavy traffic and extreme weather conditions. One thing to note is that brick patios can be more susceptible to weed growth in the gaps between pieces, so homeowners will have to routinely manage weeds.
There are a lot of things to consider when choosing the materials to use when designing your outdoor patio. Let the experts at Distinctive Deck Designs can help you decide what stones to use based on your space available and the surrounding environment. Contact us today for a free on-site consultation.