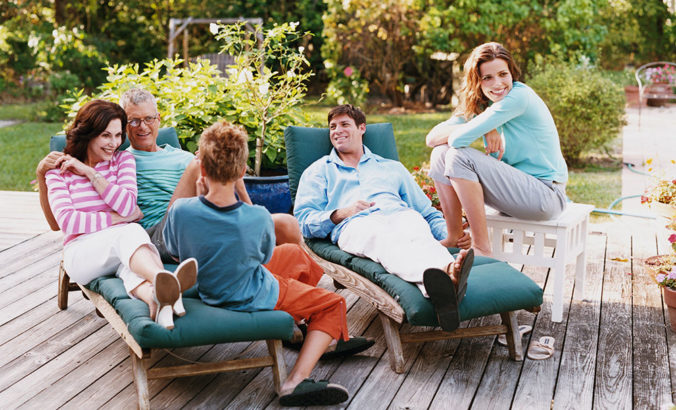 Decks and outdoor patios are the perfect summer hangout for people of all ages. However, families with small children or pets know that outdoor living spaces can be a point of concern. Sharp edges, poisonous critters and unsafe terrain can all pose a danger to little ones. Fortunately, there are many ways to kid-proof your yard and still keep the areas useable. Fairfax residents should look no further than Distinctive Deck Design for their kid-friendly patio design.
Railings and Gates
Railings and gates are perhaps some of the most obvious solutions that are beneficial for people of all ages. Secure railings and gates help protect lifted and multi-level decks and can also prevent future accidents. Railings on decks should be at least 36 inches high and the slats should be no wider than 4 inches apart. We can recommend custom railings that allow you to meet your personal style and height requirements.
Homeowners with children should also invest in sturdy gates to go at the top of outdoor stairs to prevent children from accessing them. These gates can either be permanent fixtures or removable once your child becomes old enough to use stairs safely. Gates can be customized to match existing railings and will not disrupt the aesthetics of your deck or patio.
Wood-Free Decks
Traditional decks are usually made of real wood that needs constant maintenance to prevent splinters, wood rot, and warping. At Distinctive Deck Designs, we proudly use Trex® composite decking to create our one-of-a-kind deck and patio designs. Fairfax homeowners can trust that using these materials will not only save them time, but they're a safer alternative. Composite decking materials promise a durable splinter-free surface that children can play on with no worries. You don't have to sacrifice the classic wood grain look either. Trex® composite materials come in various styles, so you can find your perfect match.
Provide Shade
Sunshine is a great thing, but too much of it can be harmful, especially for children who have sensitive skin or experience sun sensitivity. Creating a screened-in patio will help eliminate harmful rays from the sun to protect your children as well as yourself. Our designers will evaluate your deck or patio plans and work with you to decide on a covering that will work best with your home. For instance, many choose a slatted covering like a pergola that allows some sunlight to come in, but still provides coverage when the sun is at an angle. Others opt in for full coverage with sunrooms or three-season rooms. We can customize your patio designs to ensure there is ample shade on those hot summer days.
Add Light Fixtures
Outdoor spaces shouldn't only see action during the day. When the sun goes down, a poorly lit deck is hard to navigate around. This poses a tripping hazard for children and makes it easy for them to get in trouble when out of sight. Make patios useable all day long by adding light fixtures. Ask our patio contractors about lengthening your electric supply to your patio spaces to use built-in stair lighting or rail lights. You can also illuminate your Fairfax outdoor space yourself with decorative wall sconces, string lights, path lights, and more to draw your guests outdoors toward strategic focal points. This is a great way to bring everyone together safely – and keep an eye on the little ones at the same time!
Grilling Precautions
Grilling is a huge part of outdoor living spaces. Who doesn't love a summer barbeque after a long day in the sun? There are safety precautions to take before the chef starts grilling our favorite summertime meals. Make sure propane tanks are stored correctly and out of reach of children. When installing a fire element or outdoor kitchen for local residents, our masonry experts can help disguise and keep gas lines out of sight as well. To improve safety while cooking, make sure that children are either inside or a safe distance away when the grill is in use. Keep them away from the grill or fire element while it is cooling down, too.
Outdoor living spaces are at the center of all spring and summer time activities. They serve as the perfect place to gather friends and family. Distinctive Deck Design is focused on giving you and your children a safe outdoor space. Contact us today for a free quote on your kid-friendly patio design.