When you want to refresh your patio space on a budget, our Northern Virginia outdoor living contractors recommend wall stones or stone veneer. We have a masonry crew that can cut natural stone and pavers to create a beautiful backyard design that can be built quickly and is light on your wallet.
Before any outdoor living design or patio update can begin, you will first want to select your stone or paver materials with your contractor. There are pros and cons to both mediums.
Natural stone
Naturally made within the earth
Imperfect and with its own color variation
Never an exact matched piece unless it was all cut from the same slab
Porous material
Needs penetrating sealer to prevent color dullness and cracks
"Wet Look" sealer available
Pavers
Manmade stone
Improved color consistency with exact match pieces
Permeable material
Needs sealant to prevent color fading and staining
Breathable sealant needs to be applied every three to five years
Recommend breathable sealers to allow efflorescence to escape for easy cleaning; otherwise, the whitish dust looks like water stains and is trapped below the sealant
"Wet Look" sealer available
Now it's time to get right to the backyard design. Stone looks beautiful in every backyard, and you can use it everywhere from exterior walls, posts, garden boxes or retaining walls, fire elements, and pathway edging. Our masonry experts share the top five ways to incorporate stone into your backyard design.
Pathways and Garden Edging
Paver walkways are popular in the metropolitan area of Fairfax, VA. From wrap-around designs to front door pathways, pavers create a welcoming environment for your outdoor living spaces. It provides an orderly and neat appearance, and you can even use raised stone pavers to edge your gardens for a completed look.
Window Pop-Outs
When you want to create beautiful curb appeal by highlighting your yard's natural beauty, consider making pop-out garden boxes. These look best below any windows that face your backyard or the street and are an inexpensive stone project. Stack pavers to create a garden box that looks great from all angles, and you can highlight the stone's natural textures by having the textured side facing out.
Support Posts, Columns, and Light Posts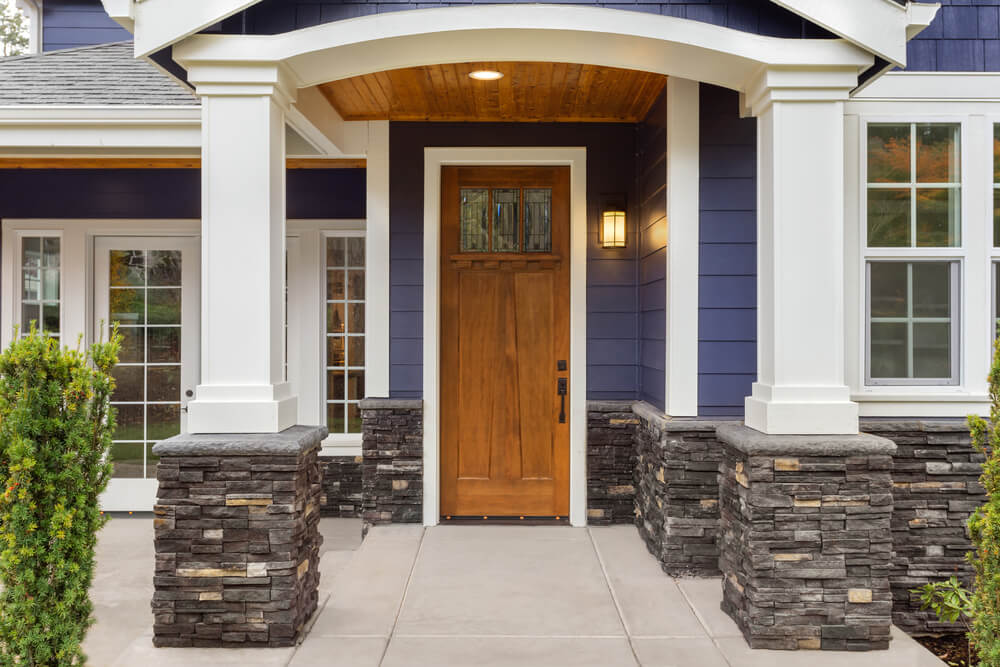 Homes that have columns on their porch can be dramatically dressed up by wrapping post footings with stacked stone or pavers. Textured natural stone or smooth pavers both elevate columns for improved aesthetics and are a perfect match for Craftsman style homes. If your home is a Victorian or Colonial, we recommend dressing your columns and posts with aged red brick for a true historical look. Our patio contractors can also install outdoor light posts with the stone wrapped around them for a timeless outdoor feature.
Outdoor Fire Elements
Depending on the complexity of the design, an outdoor fire pit or fireplace is an affordable yet beautiful focal point for your backyard. You can opt for smooth polished pavers or natural stone for a classic look. Talk with our outdoor living contractors about how you can protect the stone and the grout during continued use.
Stone Walls
When you want a stone focal point, ask a local patio contractor to use stone veneer on one of your covered patio's walls. Stone veneer is lighter and will not weigh down the home's exterior. While it is possible to use natural stone and grout, there is greater potential for complications as the wall ages. Having a wall of stone creates a very warm, homey environment that looks great with clear lights. Make it even trendier with hanging Edison lights or vintage lantern fixtures.
There are so many ways to use stone and pavers in your backyard and patio spaces. Schedule a free design consultation with our outdoor living contractors today! We serve the entire Northern Virginia area including Fairfax County, Loudoun County, and Prince William County.