It's time to ring in the seasons of glad tidings, Thanksgiving and New Year celebrations! If you are hosting any of the major holidays at your home this year, you may be feeling pinched for space. Here is where a three season room can come in handy. It is so easy to convert this space into an extended dining room, living area or holiday decorating space. If you need extra space this upcoming holiday season, you may want to opt for adding more square footage to your home.
Where Can a Three-Season Room Be Built?
Depending on your home style, you can opt for a ground level or second story level three season room. A more familiar term for this is a sunroom. The second level option works best when built on a pre-existing covered porch or deck space. Both have their advantages, but you will need to determine your extended living space wants and needs.
The main purpose of these type of extended living spaces is to provide more natural light in the home. This why they frequently have windows and screens all around. To reduce exposure to increased dust, pollen and other pollutants, don't just screen in your three season room. Instead, opt for windows. For those who want the option, you can do removable screens and glass window inserts for summer to fall transition.
In Northern Virginia, our patio and deck contractors can help you build a three season room that best suits your needs.
Do you need a window-enclosed room with the option to slide open the windows for summer and springtime enjoyment? Done!
Do you want the roof to match your existing home structure's roof style? That's totally doable!
Do you want Colonial style pillars, Trex decking flooring and skylights to add aesthetics, natural light and increase your home value? Come on, now – give us a challenge! Those are all easy to do!
What Makes Three Season Rooms (Enclosed Porches) Different than Family Rooms?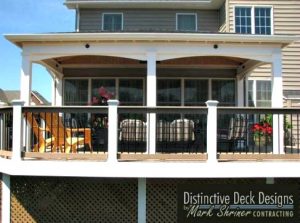 Most porches and three season rooms are built without major excavation, insulation, heating/cooling vents, and electrical or plumbing. This helps decrease costs for construction, but limits the enjoyment the space can offer during frigid outdoor temperatures. You can offset this by asking your deck building contractor to install a gas-powered fireplace. This can heat up space as needed while keeping your heating costs low. Your holiday guests will love that they can see the beautiful Northern Virginia landscape without feeling the freezing temperatures.
What Type of Roof Can My Sunroom Support?
Roofing is another consideration that you will want to discuss with your outdoor living contractor. Ask them what type of roofing their team is experienced installing. Most sunrooms use a shed-style roof, gable roof, or a hip style pitch roof. In rare occasions, some applications use a single slope roof like those found on a covered patio. No matter which roofing material you choose, be sure it's one that will keep water from leaking and provide proper drainage. You also do not want to choose a roofing style that is too heavy for the structure.
Most three season room structures are built basically just like a deck but with roofing, screening and possibly windows. At Distinctive Deck Designs, we use a variety of composite decking materials to complement your home's pre-existing characteristics. You can even request to incorporate brick, stacked rock, and other exterior aesthetics. Beware that these design options can dramatically increase the price of your installation.
Adding this extra square footage can really pay off for you both during the holidays and all year-round. From a kid's playroom to a craft room or reading nook, you will find so many ways you can use this extra space.  This video is a great way to see the types of screen porches and three season rooms that we have experience building. We were recently nominated as the Best of the Best for deck and patio construction in Northern Virginia by a national certification company.
Get in touch with our experienced outdoor living contractors in Northern Virginia to discuss your pricing options today! We will come out to your home and take measurements while we discuss your wants and needs for this space. We will work with you, your budget and your home's capabilities to design the sunroom of your dreams.