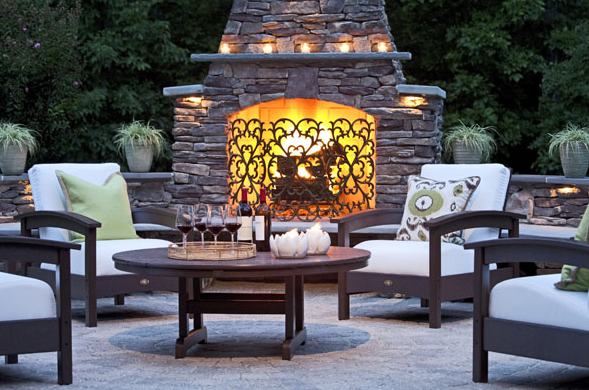 There's nothing quite like having a healthy fire, cozy blankets and great conversation with your close friends and family. Keep these good times safe by maintaining your fire pits or outdoor fireplaces for life-long use!
While outdoor fire pits and fireplaces are often built with rock slabs, concrete, metal and other materials, it does not mean that they do not require maintenance. In fact, if you keep up with routine cleaning and proper use of these areas, they will last much longer than if you do not.
Use a Safe Cleaning Solution to Protect Your Stone Outdoor Living Surfaces
It is okay to use a broom or brush to sweep away any light debris away from your stone outdoor fireplace or fire pit surfaces. You can even hose it down with a low-pressure garden hose nozzle. Neither of these options provides a true clean, though.
Because stone surfaces are porous, some cleaning solutions are too acidic and can erode your stone surfaces and their protective coatings. A safe alternative is a muriatic-water solution, which can help keep the stone clean for years to come.
Instructions for Using Muriatic-Water Cleaning Solutions on Stone:
Mix one part muriatic acid to nine parts of water to scrub the interior and exterior of your stone open flame areas.

Rinse with water and let air dry for two to three days before using it again.

Safety Note: Muriatic acid residue is flammable and can pose a safety risk if a fire starts while the stone is still wet.
Protect Your Metal Fire Bowl with Different Cleaning Procedures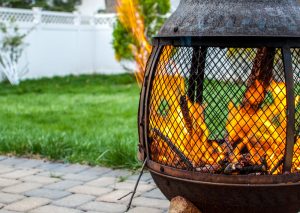 If you are using a metal fire bowl, check your manufacturer's guide for types of cleaning solutions and procedures that are safe for their protective coatings. In the event you have a cast iron surface, you can scrub any buildup with a wire brush and wipe away the remaining residue with a clean, dry towel.
To maintain the protective coating on a metal-based fire bowl, you can use oil or silicone to coat the interior. Do not be too quick to buy and apply just any solution, though. Your manufacturer's guide will instruct you as to which products are best for these surfaces.
Brush Away Debris & Clean Interior of Gas-Powered Fire Pits
If you have a gas system for your backyard fire pit, you are at an extreme advantage. These systems are among the cleanest and low-maintenance of any open flame.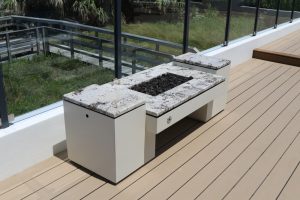 If the gas-powered fire pit is in an outdoor space, you will want to remove the logs or decorative glass to clean the burners. While the logs and glass are out, rinse and allow them to fully dry before putting them back in. This helps remove debris, dirt buildup and any cobwebs.
The last item of your maintenance checklist is to check the fuel lines to ensure that there are no cracks or kinks. Be sure to also check your valve seals for any compromised connections and replace them immediately if you find a problem. This can be dangerous and pose a serious safety risk to your home if left unattended.
Having a custom outdoor fireplace or fire pit area in your backyard is an investment you want to protect for many years to come. Take some time this weekend to do some outdoor living maintenance. This will allow you to continue stargazing and having memorable conversations around the fire pit all season long.
Distinctive Deck Designs by Mark Shriner Contracting services the Northern Virginia area for deck and patio construction. We are experienced with outdoor living fire elements, including custom stone fireplaces and fire pit patio spaces. We provide free quotes for patio renovations or stone patio repairs. If you would like someone to inspect your space or to expand your backyard living area, get in touch with us! Fill out our online questionnaire, and we will follow up with you to schedule your appointment.