Too often in Northern Virginia, raised decks are underutilized. Family gatherings, cookouts and other activities are hosted on the deck itself, while the space underneath the deck is neglected or closed off, limiting all the potential of the home. Convert the area under a second-story deck into a dry, spacious patio and get the most out of your outdoor space. Open up this space to be used as an outdoor breakfast nook, porch or cozy reading area, so you can enjoy even more of your yard.
However, converting the space under a deck into a patio does take some planning and extra effort. Have you ever looked up underneath a deck and seen exposed joints? This isn't just unsightly; it can severely limit the usability of the space underneath the deck. The spaces between boards on decks are meant to serve a purpose: drainage. Exposed joints allow moisture from rain, snow, ice, and condensation to drip down, preventing water buildup on the deck itself. While this is good for the life of your deck, it does keep the space underneath from becoming a dry, comfortable patio that can be used year-round.
Distinctive Deck Designs has a solution to the problem of unsightly exposed joints and deck drainage, and they have added it to their deck construction services in order to help Northern Virginia homeowners like you. Mark Shriner and his deck contractor team can create dry, livable outdoor living spaces using under deck ceiling panels and outdoor lighting. The process is detailed, leaving the finished deck complete with an under deck drainage system, porch and deck flashing, electrical hookups, and weather proofing. When combined, all these elements come together to create a space under the deck that will stay dry all year-round.
Under Deck Ceiling Panels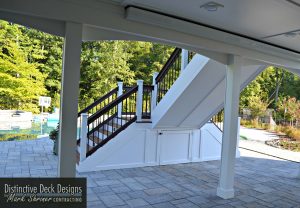 Under deck ceiling panels turn the space under the deck into a clean, enjoyable haven in any weather condition. Keep rain from leaking through the deck and prevent snow from piling up. This is especially important for decks without flashing or drainage systems in place; as a large buildup of snow melts, it can flood the area underneath, sometimes  even seeping into the home itself. Under deck ceiling panels channel water from rain and melted snow/ice away from the home and the under deck living space.  Because the deck is designed to drain quickly, you can also prevent ice from coating the entire surface of the deck, as most of the water will drain away before it can freeze. Exposed under deck components also attract spiders and other insects that create homes under dark, damp areas. When it is semi-enclosed, you are reducing the risk of such pests calling your under deck patio their home
Under Deck Lighting
Adding under deck lighting, like the canned lighting featured here, gives you more time to enjoy your living area. Whether you need lighting for crisp autumn evenings on the porch with a cup of tea and a good book, or want to entertain guests outdoors after dark, proper lighting is a must. Consider using solar technology for the ecological benefits and energy efficiency.
Under Deck Drainage
A proper under deck drainage system also protects your deck from damage during the natural contraction and expansion that occurs during the different seasons. It protects the integrity of the materials from water absorption or other water-related damage and channels water away from the home where it can be dispersed into the ground.
If you would like to learn more about this innovative under deck solution, contact Mark Shriner of Distinctive Deck Designs. His team members are leading patio contractors for the Northern Virginia market. Ask about the custom solutions available for the deck, patio and sunroom you've always wanted. Request your free consultation and price quote online!