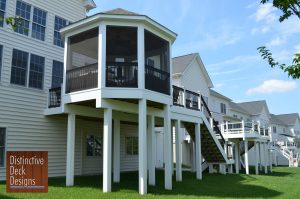 Screening in your porch for shade and pest control is one of the best decisions you can make for your outdoor living spaces. This is a popular choice for those with outdoor allergies who want to control airborne irritants while still having an outdoor entertaining space. It's also great for hosting gatherings on breezy summer nights but without the invasion of unwanted pests. If you are considering installing screening for your Northern Virginia porch, be sure to ask your contractor these key questions first.
Is the screen weather resistant for all seasons?
It's important to choose screening that is built for outdoor uses in extreme heat and cold because if it is poor quality, it can compromise your home's safety and integrity. If heavy snow or ice rips the screen, you could face a flooding issue within your enclosed porch, which can be costly to repair.
Is the screen permanently fixed or removable?
It's understandable that some Fairfax County homeowners want the freedom to control sun and shade on their screened-in porches. If this control is something that appeals to you, ask your patio contractor about removable or retractable screen options. There may be more maintenance, however, as this alternative has a higher risk of rips or tears, so be cautious.
How efficient is the screen in blocking the sun?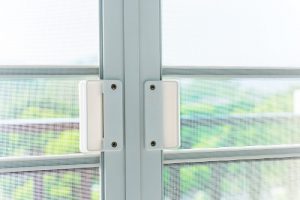 Some screens have a higher UV ray blocking capability than others, so do your research before purchasing screening for your porch or gazebo. The highest level of solar screens can block around 90 percent of the sun's heat and damaging UV rays. It is still advised that you wear a broad spectrum sunscreen when enjoying time on your porch because screens and UV window films only target UVR, not UVA rays, which can still cause premature skin aging and skin cancer.
It is important to note that screened-in porches can also improve a home's energy efficiency. With less heat from the sun making it into the home, the space adjacent to the screened-in patio will be cooler. This means your home's air conditioner system does not need to work as hard to cool the entire home.
Will I still need to worry about bugs?
For many homeowners, the main purpose of installing screening on the patio or gazebo is pest control. While screens protect your porch space from most flying bugs, smaller gnats, spiders and baby mosquitoes or flies can still be a concern. Keep in mind that bugs are attracted to light. If you plan to spend time on your screened in porch in the evening hours, you should try a yellow light so as to not attract pests. You can also try other natural methods, such as scents or sprays, to repel insects.
How should I clean the screen?
Over time, you can experience plugged mesh holes in your patio screening from dust and other debris. When cleaning the screen with a hose or pressure washer, you will want remove all furniture from the space, so they do not get wet. Follow these procedures to power-wash and remove debris from your porch screening.
Which cleaning solutions are safe to use on screens?
Use a warm water and mild dish soap mixture to clean dirty screens. Otherwise, you can get away with just a high-powered hose sprayer. Avoid using acidic cleaners, like vinegar or bleach, which can cause staining and ruin your home's exterior, patio surfacing and nearby plants.
Do you provide screen repair services?
Long-term exposure to the sun can make your porch's screen integrity can weaken over time, causing it to warp and become prone to tears and rips. Smaller tears can be rejoined with heavy-duty super glue or a silicone caulking. Choose DIY adhesives that will dry clear. If you notice severe rips to the patio screening, the ideal solution is to replace it rather than to repair it. Distinctive Deck Designs is a patio contractor with experience in screened-in patios. Ask us to come out to provide a free quote to replace or install new screening for your porch, gazebo or sunroom space!
How secure are the screens against break-Ins?
The strength of your porch's screening depends on its composition and mesh size. Copper and brass screens are the most expensive, but stainless steel is the toughest. Aluminum and fiberglass, however, are the types commonly used in installations due to its cheap costs, but they are easily torn. PVC coating can help strengthen the integrity of the screen, but most screens are fairly easy to cut through.
Try to select a screen with a higher mesh size, which means more vertical and horizontal lines per square inch. This will ensure you choose the most secure option available.
Patio screening can be one of the best investments you can make on your exterior space. Shop smart and choose the best option for your home. If you need help, employ a local patio contractor like Mark Shriner of Distinctive Deck Designs in Northern Virginia. Years of expertise in the industry can help you weigh the options and choose the best product to protect your home and make the most of your porch space and your home's efficiency.