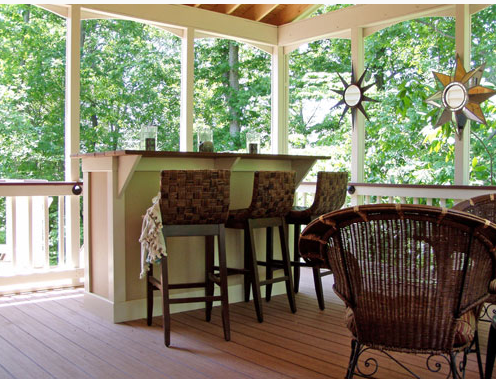 If you are thinking about remodeling, keep in mind that having a screen porch designed and installed is in excellent way to increase your home's value! This can be a great way to show off your home and help it stand out if you're thinking about selling in the future. In Fairfax, Distinctive Deck Designs can help design the perfect porch for your home whether it is screened-in or open air. Mark Shriner and his team are the experts when it comes to this climate and building outdoor spaces that will last for years to come.
Expand on Your Living Room
While we love being outdoors, sometimes it's nice to enjoy a breeze without being exposed to the elements. That's where a screened-in porch comes in handy! Consider this addition another family or living room to your home. This one just has an exceptional view! You can experience mother nature in comfort, too. Add cozy seating that doesn't need to be treated for outdoor use, so you have more freedom with the styles and fabrics you choose. Use rugs, coffee table and side tables to make the space feel less like a porch and more like an extension of your living room.
Perfect for Summer (and Spring and Fall)
It can be difficult to stay outside for long periods of time during the summer because of the intense heat. A screened-in porch gives you the best of both worlds because you don't have to worry about the sun's harsh UV rays. Fairfax families with young children use their screened-in porch to take breaks from being outside. Ask Distinctive Deck Designs about adding fans to create the perfect cool down zone after playing in the yard.
Unlike uncovered porches or patios, screened-in porches can be used in the spring and fall as well. Enjoy your cup of coffee on a rainy spring morning or a crisp fall afternoon in comfort. Plus, there's no need to wipe off your furniture after every use.
Great for Hosting
One of the best parts of doing a remodel is being able to show it to all your friends. Screened-in porches are the perfect place for you to have get-togethers with your family and friends. You can host the greatest game night, cocktail parties, or even grill out. You can enjoy your meal in your screened-in porch without worrying about bugs or pests!
Grab your favorite drink, kick your feet up and enjoy your new porch! Accentuate your outdoor space and contact us today to see how our experienced craftsman can create your vision.