Is concrete too boring? Are you concerned about slippery porch or walkway surfaces? Is your current landscaping missing that extra pizzazz? You have alternatives!
While best-known for our skilled deck handiwork, Distinctive Deck Designs is here to provide complete patio design construction as well. You can rest assured that your existing landscaping features will be accented further with tasteful hardscape designs for your pathways.
What is Hardscaping?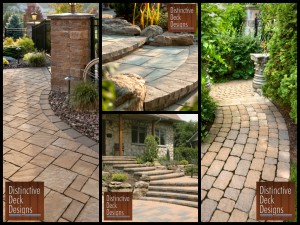 Hardscaping is the outdoor construction process that utilizes different mediums of stone and pavers in walkways, driveways, porches and patios. Often they are set with interlocking brick pieces or inlaid with grout or cement. Hardscape materials come in a wide variety of designs, shades, shapes and sizes. Here at Distinctive Deck Designs, most hardscape quotes are much lower than composite decking projects. It is a great way to add to your property without significantly hurting your savings account.
How Can My Property Benefit?
Our team of experts are able to match the colors and designs to your current home or business exterior. Grand hardscaping designs often add curb appeal and create a visually impressive aesthetic upon approaching your home or workplace.
Why Does a Deck Contracting Company Do Hardscaping?
Since our business specializes in all kinds of outdoor renovation projects, it makes sense that we only use hardscape materials for walkways as well as patio or porch applications. It also looks great with the backyard food preparation area work we carry out! Before choosing just any company to install hardscaping for you, be sure they are Interlocking Concrete Pavement Institute (ICPI certified) and check to see if they use products like Techno-Bloc and are Techo Pro contractors. Our company is both certified and approved to work with such products.
Take some time to look at some of our walkway and entrance designs. As you can see, landscaping with hardscape materials is completely customizable and wholly compliments the existing landscape design and building facade. Our favorite look is when we use different sizes of stone to make a cohesive design.
What Else Does Distinctive Deck Designs Do?
While we excel with decks, we also work with patios and porches too. This includes covered or screened pieces that help to control sunlight exposure. Our luxurious landscaping work also extends to retaining walls. No matter the project, we work with a wide variety of composite, imported and locally sourced products.
When you ask our company to do any type of patio construction work, you can expect a superior level of excellence, communication and customer service. Our design approval process is extremely in-depth and allows you to have your voice heard. Experience the Distinctive Deck Designs difference for yourself. Please contact us today to get started!