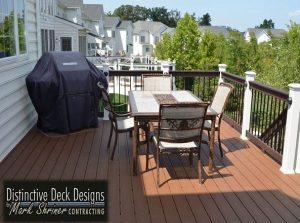 For national BBQ month, we are celebrating by talking about where to install a BBQ on your backyard patio. For many, a BBQ is a portable cooking element powered by briquettes, flame, and lighter fluid. Some homeowners like the propane gas setup and others want to tap into their home's natural gas outlets. No matter your cooking fuel preference, there are some safety guidelines to practice with BBQ placement.
BBQ & Open Flame Safety Clearance
Every year, hundreds of houses, garages, and patios catch fire as a result of the improper placement of a grill or smoker. Whenever you plan to use an open flame in your backyard space, you need to put safety first and keep the grill a minimum of
10-feet away from covered areas, hanging plants, and other combustibles. Common combustibles include outdoor furniture, posts, overhead structures, trees, bushes, and ground-level plants.
Choose the Ideal Location for Different Backyard BBQ Types
The best location for a backyard grill is an uncovered area a moderate distance away from your home. Some yards are limited on space, so the size of your BBQ will further limit the areas you can keep it.
BBQ

Open Flame Safety 101
Different Grills Require Different BBQ Safety Standards
Charcoal Grill Safety
Grills that use charcoal and an open flame are more difficult to control than their gas-powered and infrared counterparts. Keep a close eye on these grills when cooking and keep them away from enclosed spaces, such as covered patios.
Natural Gas Grill Safety 
Natural gas grills are a great choice for someone who grills often. These grills have an igniter and temperature controls similar to a stove. Experiment with briquettes and varying wood chips to add different flavors to your meats and grilled veggies. These grills need to be placed in a location with easy access to the home gas line.
Portable Grill Safety 
Portable grills, on the other hand, are powered by propane. These are ideal for locations that don't have access to a home gas line – a perfect option for the occasional griller. While some propane gas grills do feature a self-igniter, they do not have a pilot light. You will still need to use a lighter or match to get the flames started, but will be able to control the flame height with controls similar to a stove. Propane gas BBQs are ideal for the beginner griller, whereas charcoal grills and smokers are for the grilling kings. These grills can be placed just about anywhere, provided there is adequate ventilation.
How to Incorporate a BBQ into Outdoor Kitchen Design 
Outdoor Kitchen Clearance – virginiadeckdesigns.com – ShutterstockLuxury grills in outdoor kitchen designs are a growing trend in outdoor living. Placement does matter when installing a grill into outdoor kitchens with proximity to the home. First, you want to make sure the smoke can't waft into your home. Next, consider the overall traffic of the space. You don't want to keep the grill right next to the spot where guests toss the football around or where your children run and play. You should also keep the view in mind – you don't want to obstruct your view from the windows with a large grill. 
Your surface materials are also something to take into consideration. Stacked stone or granites are best for outdoor kitchens. Laminate surfaces contain plastic, which can warp near high heat. Stone has a high melting point, far beyond the maximum heat of your grill. Your patio contractor can also recommend surface sealing to level your countertops and make them easy to clean. Finally, keep safety in mind. Not only are covered areas a fire risk, but they can also build up soot or become damaged by the heat and smoke of a grill. Plan for grill placement first instead of after the fact. 
Outdoor kitchen construction requires some city permits, so it's best to hire a patio contractor in your area to ensure safe construction. They will also work to meet the housing code in your city or county.
Contact Virginia Deck Designs to Get Started on Your Dream Patio & Outdoor Kitchen
Distinctive Deck Designs is a deck and patio construction company located in Northern Virginia. Homeowners in our area love BBQ, and we help make them grilling kings of their neighborhood with our magazine-worthy outdoor kitchen designs. Get a FREE on-site consultation with our lead contractors by contacting us online.  
You know your taste buds are watering for authentic, homemade grilled food, so get in touch with a patio builder in your area and start building the outdoor kitchen you always dreamed of!