As your Prince William County deck builders, we are proud to share our time and knowledge with the communities and homeowners we work alongside. Lately, we have noticed that Northern Virginia home sales have been slowly improving during 2014[1], and some new homeowners may have purchased properties featuring a deck or patio area. This extra square footage has a positive effect on a home's equity, and we congratulate all new homeowners on their new acquisition!
Newbie homeowners, however, may be interested in some advice showing ways to effectively utilize their deck, screened-in patio, or porch. Distinctive Deck Designs, an expert in outdoor living spaces, would love to provide a few practical decorating tips for these aforementioned areas.
We realize that purchasing a new home may result in a fear of overspending to furnish the entire space, which may leave outdoor areas at the bottom of your priority list. This is a reasonable concern, so we have some simple yet subtle recommendations that you can add to your outdoor living spaces.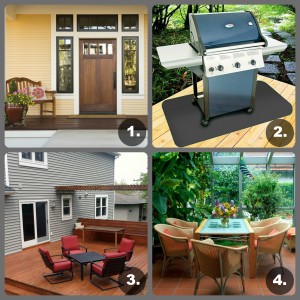 1. Small potted plants and a welcome mat at the front entryway can help to provide a welcoming experience for your guests. Splurge Tip: If your front porch's location and the sun exposure allows for it, invest in some comfortable seating options that are ideal for drinking your coffee every morning. Choose weather-friendly furniture designs to prevent fading or cracking.
2. If you plan on grilling on your deck, invest in a hard-wearing plywood mat. This helps protect your beautiful deck from staining due to any grill spills and splatters. Splurge Tip: If a grill is simply not enough, perhaps save up for your dream outdoor kitchen and research prices regarding the construction process as well as the products you want to add to the area.
3. Invest in an outdoor entertainment arrangement for your backyard porch. This will provide instant seating and sturdy surfaces for food and drinks when you are entertaining guests at, say, a housewarming party. Splurge Tip: Invest in two or three different seat cushion colors that you can switch out at the start of each season, which will help to prolong the lifespan of your cushions.
4. Covered or enclosed porches, patios or sunrooms are a great way to invite natural light into your home. Some outdoor furniture is cheaper than indoor options, so invest in some wicker-inspired furniture, while some light, flowing and easy-to-close drapes will give you privacy in the evenings. Splurge Tip: A great way to tie in a sunroom's furniture is with an oversized rug. Choose a bold print or coordinating color to help tie the room together for a more "complete" look.
When you are ready to further personalize your outdoor living space, please feel free to reach out to the general contractors at Distinctive Deck Designs for our full landscaping design services.
[1]NVAR. "Housing and Market Statistics." 2014. nvar.com and rbintel.com. Retrieved July 7, 2014 from https://nvar.com/market-statistics/housing-market-statistics/market-statistics/housing-market-statistics.