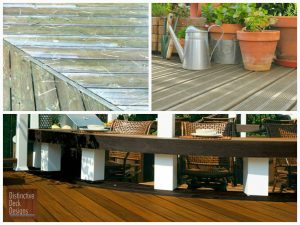 So you've decided to build a deck for your home. The first question you have to answer before beginning your deck design is whether you'll use wood or composite decking. When it comes to deck construction is one better than the other? Like so many things it depends on who you ask.
At the end of the day, it seems to come down to personal preference. Even so, there are pros and cons to both, so it's important to do your due diligence before putting your deck plans into action. In that spirit, Distinctive Deck Designs, Virginia's leading source of deck, porch and patio construction, invites you to dig a little deeper into the question of wood vs composite decks.
Composite decking is made from recycled plastic and wood fibers and gives off a very natural appearance. As it pertains to natural wood decking sturdy woods like redwood, pine, and cedar, commonly get the call. Now let's examine some of the common factors you'll consider before making your choice.
Price is always a primary factor, and composite decking will cost you more than wood because of the longer lifespan of composite material. Composites are built to outlast the elements, and for some this fact is worth paying a bit more out of pocket. And while wood decking is generally cheaper it could require replacement if you're planning on staying in your home for a long period of time. So here again the question becomes one of personal preference.
Many composite fans point to the very minimal upkeep it requires, which is usually a simple cleaning with a low-pressure washer when dirt and debris begin to build up. Meanwhile, depending on the weather where you live wood decking may require refinishing from time to time to look its best. Consider, however, that while composite decking material may last a long time, its finish will fade and it cannot be refinished, only replaced. Scratches and stains it accumulates over time will stay there unless replaced.
In terms of appearance, today's composites come in a number of colors and wood grains and look very natural. Still, it is true that only wood is wood, and nothing looks more natural than the real thing.
Whether you choose composite or wood decking the end result will be a deck that serves as a beautiful addition to your home. Consider the pros and cons of each material and choose what works best for you, and let your deck construction begin in earnest.