We want to share with you some of the trade secrets of choosing hardscape designs for patio landscaping. Choosing the right patio pavers matter when you are redoing your patio walkway, adding in a stone fire pit, or even building an outdoor fire place. Just ask our hardscape contractors in Northern Virginia! We can help you choose the right paver styles that will complement your current landscape design for your Fairfax area home.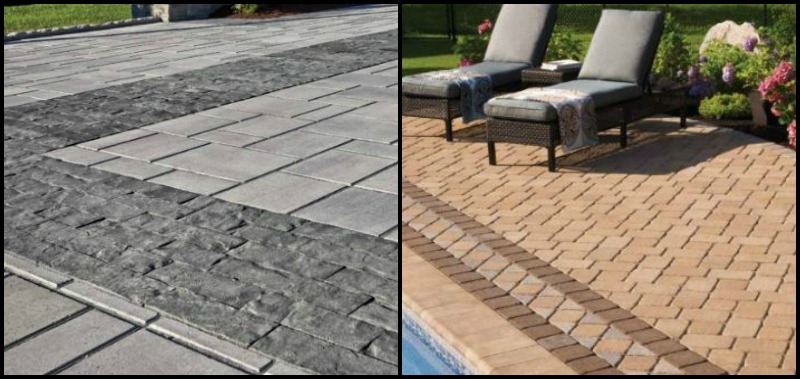 Let's first go over the terminology you will encounter when working with our patio contractors for hardscape design.
Engineered pavers – Reinforced pavers ideal for driveway applications because they can withstand vehicle weight and heavy traffic
Permeable pavers – Pavers customized to withstand moisture and allow any water buildup to work its way underground as a flood preventative measure
Slabs – Large stone options constructed with combination of aggregate materials including granite particles. This stone option also offers durability like that of concrete slabs, but with more surface textures and color tones
Caps – Smooth paver stones designed to be a finishing touch to pool decks, fire pits, outdoor fireplaces, outdoor seating, and more
Wall Pavers – These thicker pieces of pavers are brick-like in shape and style, but have varying textures, finishes and color tones. If you plan on building retaining walls, outdoor fire pits or fire places, then our Northern Virginia patio builders recommend this option. These pavers fight against erosion and can withstand varying temperature extremes
Concrete Overlay Pavers – If you have a pre-existing concrete step system, these options are great overlay options to allow you to restore the beauty of a grand entrance with a refreshed face. Consider these as a restoration option to conceal any unsightly stains, cracks or unkempt appearance
Before our patio contractors can break ground on any Northern Virginia hardscape landscaping project, we need to make sure that your ground is level. This means removing any existing concrete unless you opt to do a concrete overlay project. We will regrade the entire area to ensure that there is an even surface. This process also ensures there is adequate drainage for heavy rains and melting snow or ice.
Hardscape contractors regrade desired areas for patio pavers for even surfaces & drainage.
Click To Tweet
When you work with our hardscape architects, you have the option to have us provide you a color rendering at an additional fee to visually see what your finished hardscape patio or landscape project will look like. We also help you choose the right landscape pavers for your project scale. At Distinctive Deck Designs, also known as Mark Shriner Contracting, we use Techo-Bloc and EP Henry pavers.
If you tell us that you envision a certain color tone, we can help point you in the direction of what paver options you have available. Remember, we may show you permeable pavers, slabs and caps if you desire to build a patio space complete with posts and an outdoor fire pit.
For a striking hardscape design aesthetic, use both rough and smooth patio paver styles.
Click To Tweet
You always want to go with a smooth surface for stair steps, stair landings, post caps, tops of fire pits, and any stone outdoor seating areas. Texture is a great way to help draw the eye to your outdoor living features, such as your outdoor fire place or fire pit areas.
Try varying shades of the same color family. Consider lining your patio walkway or your fire pit seating area with a darker tone. This creates a striking hardscape design.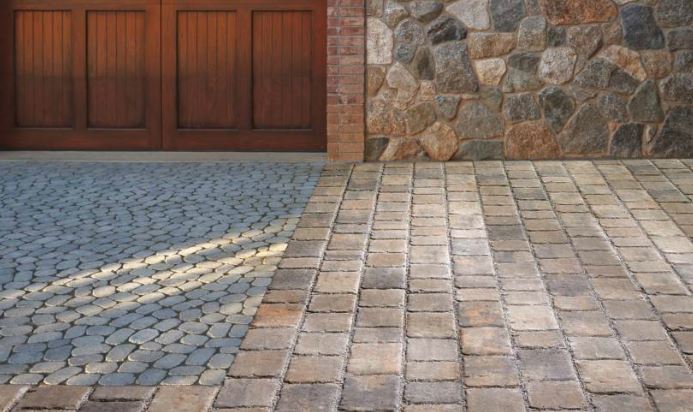 Our patio contractors recommend changing the stone style or shape for entryways. Here is a great representation by Techo-Block that features permeable pavers in a chaplain gray tone. See how it creates a focal point inside of the natural red brick surrounding the door and the varying brown walkway paver stones? This choice serves as both a contrasting color and shape for architectural interest.
For your patio or driveway at your Northern Virginia home, try hardscape borders. EP Henry has great curb options to control runoff from raised gardens and add texture contrast to any of your surface level pavers.
We know patios for the Northern Virginia market, and we know what is going to work best for you. Ask for your free on-site consultation where we will show you your options for hardscape landscape design. Reach us by phone at 703.263.9634 or leave us a message online!