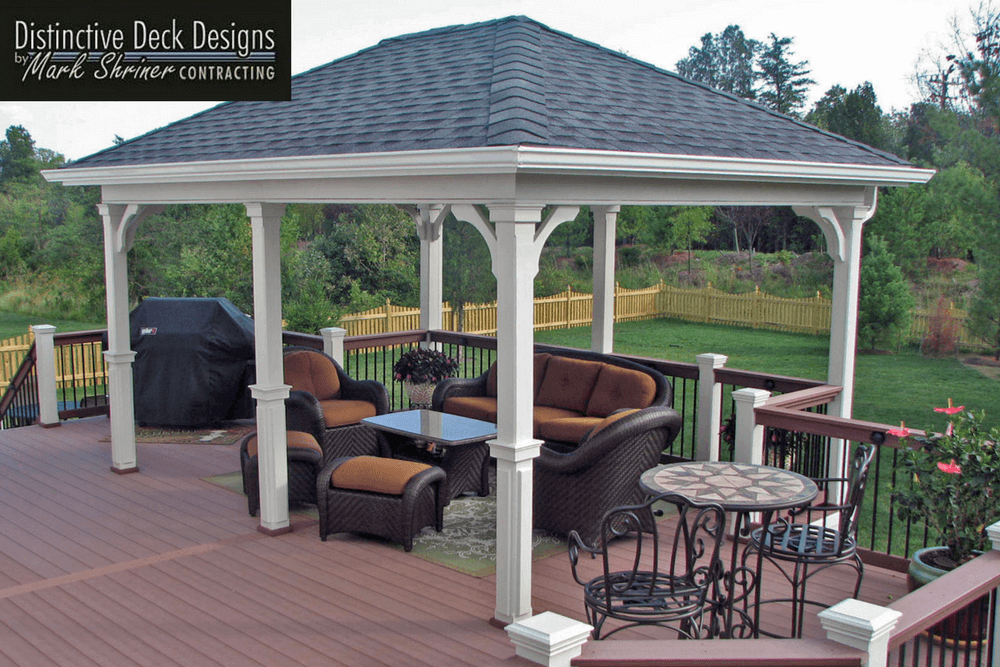 Homeowners in Fairfax and Northern Virginia are often surprised to learn about some of the easy ways they can upgrade their existing homes for unbeatable resale values. While in-home amenities are beautiful, the true value is in outdoor living spaces. These areas add actual square footage to the home's living space and can be customized to meet every need.
When we work with local homeowners, many say they want to add a deck, upgrade their backyard patios with pavers, or add an outdoor kitchen or fire element. These are all great ideas that can improve the usability of any space. Many backyard improvement projects, however, overlook covered patio designs and outdoor pavilions. These versatile spaces are a favorite for the master contractors at Distinctive Deck Designs. We want to share the top four reasons why these should be included in your next backyard project.
Adds Character
Both covered patio designs and outdoor pavilions instantly add character and value to your home. When you talk with our experienced covered patio contractors, we help you navigate custom design elements to help your pavilion design be the best it can be. Optional features could include stacked stone columns, crown molding on footings and the rafters, exposed or open-tail rafters, and much more.
Extends Usability
Whether you're keeping true to your home's architectural style or creating a modern outdoor entertaining zone, a backyard pavilion is a grand way to have a shady retreat in your lawn. These are perfect for Fairfax-community homeowners in nearly every season and weather conditions. As an added bonus, a covered patio or backyard pavilion meets the clearance height requirements to be used above any kitchen and fire elements for some protection against the elements. It's the perfect way to have a relaxing retreat right in your backyard.
Easy to Customize
It's easy to customize an open-air, roofed outdoor space when you opt for pavilion construction from our Fairfax-area covered patio contractors. Consider options that allow you to control the shade as well as add extra cooling or heating comfort. Our master contractors can help you achieve custom shade control by installing an outdoor drape railing system, so you can keep fabric gathered for a beautiful look year-round or draw drapes to a close when it is too bright. This is just one of many conveniences you can request from our experienced team.
While backyard pavilions do not have walls, roofed structures can still be warm when outdoor breezes are at a standstill. Air movement helps keep the space cool for ultimate relaxation. Consider having a ceiling fan installed to allow you to control when you need some "wind." It is also helpful in the winter months when you need to disperse heat from a nearby fire element. Simply reverse the fan blade direction (clockwise) to move the warmer air up and outward.
Reflects UV Rays
Roofed patio structures are also an important necessity when you want to protect items in your outdoor living or kitchen areas. The roof shingles help reflect the harmful ultraviolet rays, also known as UV rays, outward. UV rays are a common reason why outdoor fabrics fade, stretch, or warp. Metals and woods also change with exposure to the elements and UV rays. A roofed patio or pavilion helps protect your outdoor living furniture and accessories. They will also last longer because shade offers your patio furniture a respite from harsh weather conditions such as rain, snow or hail.
When your covered patio is affixed to your home, it has two benefits in the warmer months: first, it keeps your home cooler because shades some of your interior windows. Second, it reduces your energy bills in the warmer months because the structure helps redirect UV rays outward instead of into your windows. This results in a cooler, more comfortable space. When UV rays beat on your windows and transmit into your interior spaces, it heats the air, causing your A/C to work harder to cool your home. Continued UV ray exposure through windows can also contribute to color fading for fabrics near the windows.
Making the decision to break ground and begin covered patio or pavilion construction will be the best decision you have ever made for your home. It's time to stop dreaming of future patio designs and start making these a reality. If you're ready to add more square footage, make a huge impact on your curb appeal, and discover more function with your outdoor spaces, then contact us today for a free consultation. We work all throughout the Fairfax, Loudoun, and Prince William County areas.