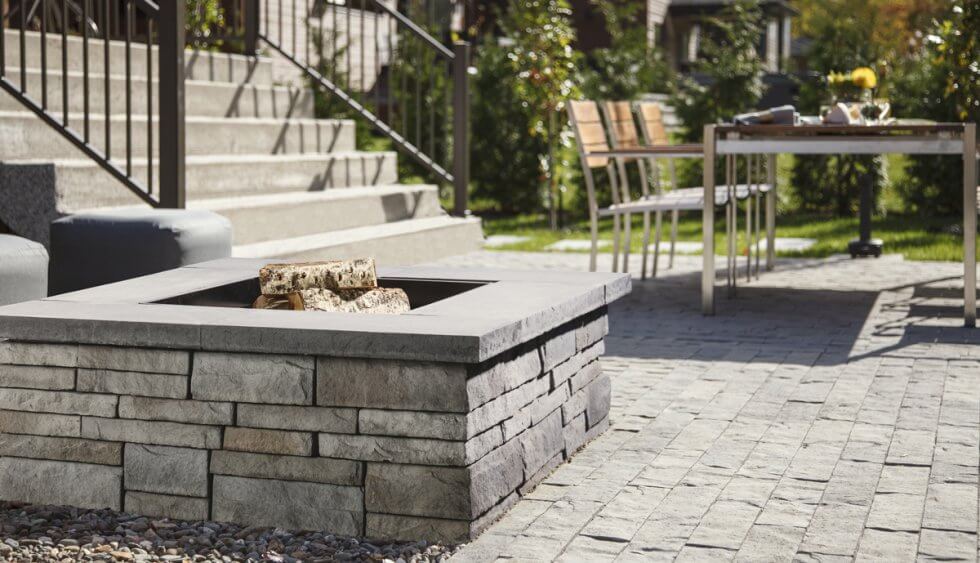 There's something so inviting about a backyard patio that features a fire pit, especially when the temperatures cool down. As enticing as fire may appear, it's important to design your fire pit with safety in mind. We have safely built many fire pits and outdoor fireplaces throughout Northern Virginia. If you are considering a fire pit for your outdoor space, then this information is for you! Here are some must-know considerations before adding a fire pit to your patio.
Fire Clearance
Before you make any design choices, secure the perimeters both surrounding and above your fire element. It is important to keep all combustibles at least ten feet away from the fire area. Combustibles include structural overhangs, trees, bushes, and outdoor furniture. If these items are too close to the heating element, they can catch fire, and since plastics and metal items absorb the heat, they pose a burn risk. Be sure to only burn dry materials such as paper and aged woods for safe operation of natural, gas or electric fire elements.
Fire Source
The type of fire source will also play a role in what type of patio fire pit design you choose for your Northern Virginia backyard. You have three options: natural wood-burning, gas, and electric. Your initial consultation with our outdoor living experts is a great time to ask questions about these options. We can provide insight for which option will work best for you.
There are clear differences between the three types. Both gas and natural wood-burning fire pits can include logs and burnable elements with an open flame. Electric fire pits usually have a tempered glass cover for an enclosed flame. This style disperses heat with the use of a fan.
All three types of fire pits have the potential to burn.  Always keep a bucket of sand near any open flame fire pit. Use it to quickly douse flames when they get out of control.
Outdoor Seating
Your choice of outdoor seating surrounding the fire pit or outdoor fireplace will also be an important consideration. It's possible to ask your patio contractor to install built-in seating for your fire element space. Because they are often made out of stone, they can be quite cold to sit on without any cushions or blankets. Be careful with using these comfort items, as most are flammable. For best safety and security, do not use blankets and outdoor cushions with frayed elements.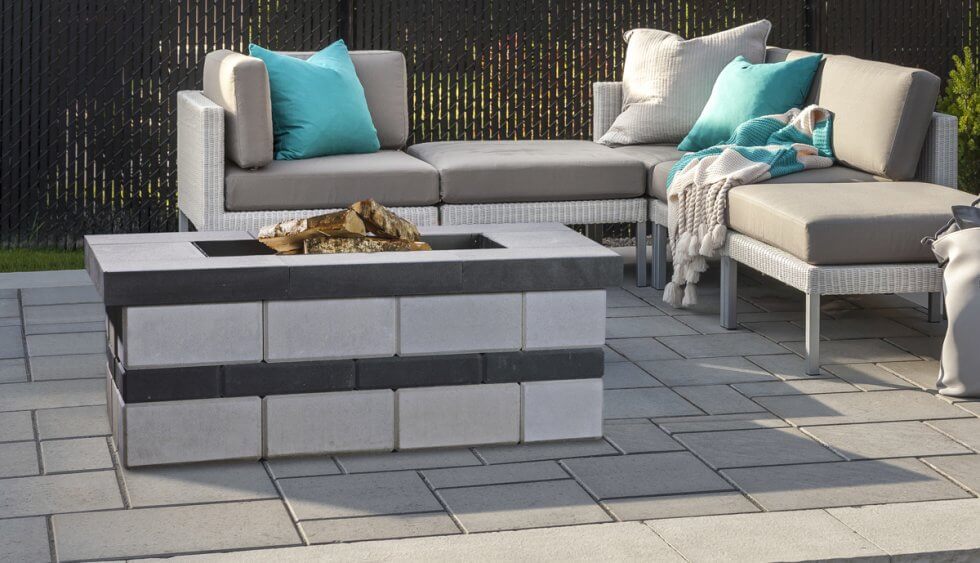 If having built-in seating is not an option, many use plastic or canvas outdoor patio chairs. It's advised that you do not use any chairs that have exposed metal. They will absorb heat and can cause contact burns for those who touch or graze the metal bars.
Design
The design is the final consideration when building a fire pit in your Northern Virginia patio. Fire pits come in all sizes and features from above and below ground, smooth, rough, stacked stone, and much more. The ultimate aesthetics should reflect the homeowner's preferences as closely as possible. Our master carpenters have built outdoor living elements in Northern Virginia for more than 25 years. Over the years, we've noticed some preferences with some homeowners' personalities. Let us see if we have yours pegged:
Type-A personalities gravitate more towards linear and angled looks. The perfect Techo-Bloc surfaces for these homeowners to choose would be G-Force, Raffinato, or Travertina Raw. It is possible that these types of personalities will like smooth, polished concrete fire bowls.
Artsy and more fashion-forward personalities will absolutely love Techo-Bloc's Graphix walls for custom fire pits. It's the perfect surface to create functional drama for outdoor living spaces. They may also want eclectic fire bowls instead of the traditional circular or rectangular patio fire pit designs.
Those who value traditional looks will appreciate the slight variations found with Techo-Bloc's Brandon, Prescott, and Mini-Creta Architectural wall collections. Circular patio fire pit designs are also a favorite for traditionalists.
The season is definitely here for custom patio fire pits and outdoor fireplaces. Don't miss out on the beautiful and warming comfort of these fire elements. Explore your design options with our master carpenters and masonry experts by contacting Distinctive Deck Designs today! We provide free at-home consultations for residents throughout Fairfax County, Prince William County, and Loudoun County.