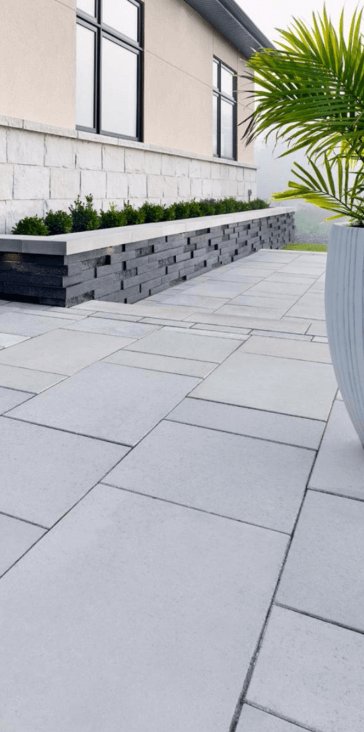 Creating a backyard retreat is a combination of skill, expertise, and materials. Distinctive Deck Designs' contractors proudly use Techo-Bloc materials for Northern Virginia patio building.  In fact, the new Techo-Bloc design guide is out, and it is full of patio inspirations. We could spend hours thumbing through the beautiful designs featuring Techo-Bloc's timeless products. Let us summarize our new offerings so you can begin thinking about your next patio upgrade. Here are seven trends to try when building patios:
Increase of Porticos – Porches have evolved over the years. For homes that don't have space for a full porch, it's possible to build a portico over the front door. This is an external structure that pops out from the home with its own roof to help protect the front area of your home from the elements. It also creates a welcoming environment. There are many portico porch styles to choose from, and the Blu and Raffinato lines from Techo-Bloc are excellent for steps leading into this space.
Power of single textures – The surface is the first of many design decisions you'll be making when we begin patio building at your Northern Virginia home. You'll have your choice of many polished, smooth pavers, some with imprinted textures, and the natural, rough look. Choose just one or two patterns for your ground materials to help streamline the look.
Texture makes a big difference for an outdoor space. Be careful with the difference of mediums though. When there is too much texture, it can make your space look busy and smaller.
This is not to say that you can't alternate textures for walls and step façades. In fact, that's the perfect place to alternate materials for depth and visual appeal! Raffinato and Graphix walls by Techo-Bloc are an excellent mix of contrast for outdoor walled elements like kitchen spaces, outdoor fireplaces, or fire pit surrounds.
Light color palettes – In years past, more and more homeowners wanted to incorporate rich colors into their patio surfaces. Over time, we have seen the trend go more towards the lighter earth tones and monochromatic colors like dull greys and beiges. The latest guide shows how toning down the surface colors helps make the plant life pop. Making this color change creates a more zen environment and focuses more on the outdoors.
Wood-like stone pieces – The hottest new trend for 2017 is wood grain imprints in stone pieces. This adds both texture and dimension for ground applications, walls, and caps. We recommend Borealis, Dunes or Ocean collections by Techo-Bloc to achieve this look.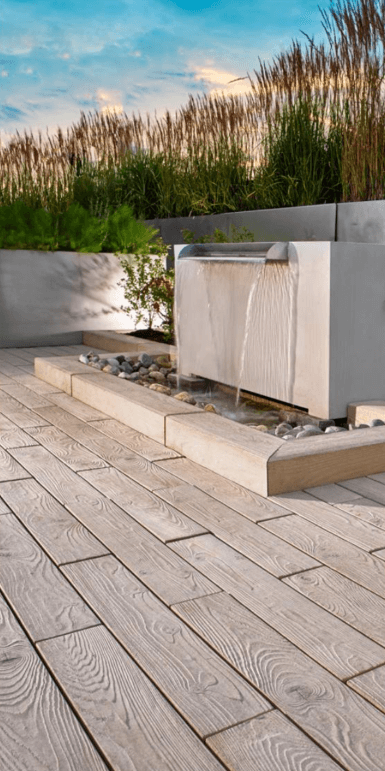 LED outdoor lighting – Outdoor lighting is not new, but LED mood lighting is growing in popularity. These are excellent to put underneath permanent structures to highlight a change in elevation and pop-out elements, such as fire pit surrounds or outdoor kitchen areas. Traditionally, outdoor lighting is a standard tone. The growth of LED options allows homeowners to elect color-changing strands or a single mood lighting color.
Large-scale slabs – We can't say we didn't see this one coming. Rock and slate slabs are available in larger sizes these days, and we think this is great for patios throughout Northern Virginia. Using a wider and longer slab helps to elongate the space, helping you to feel like the outdoor living area is larger. This is especially helpful for homeowners with smaller backyards and side yards. You can still create a beautiful pattern with different size slabs. Explore the Aberdeen, Blu, Industria and Para collections by Techo-Bloc for inspiration.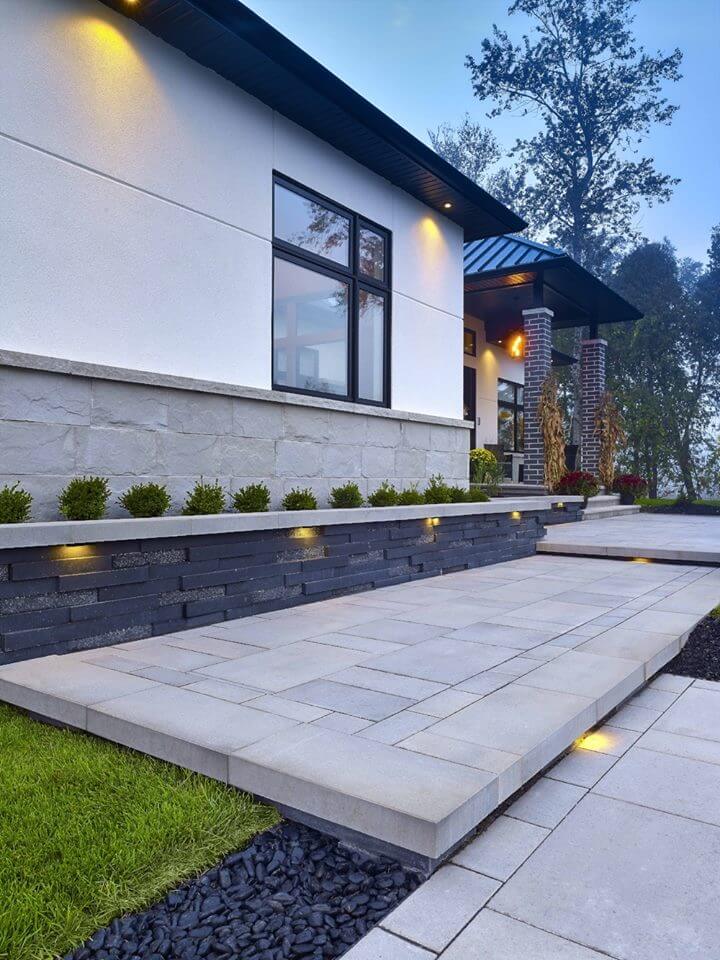 Bold accents – In our many years of patio building in Northern Virginia, one thing remains constant. Homeowners love to do bold accents for their outdoor spaces. This may show up by way of accent pillows, umbrella or curtain fabric, or with foliage. It's best to use neutral tones for your patio materials and furniture stables. Then stay within the same color family for any accent pieces. This reduces the space from feeling too busy or too cluttered.
Techo-Bloc's annual design guides are a great resource for outdoor interior design and material selections. In fact, their annual guides are one of many ways our masonry experts stay in touch with the latest and timeless patio trends.
We feel inspired to help create Zen outdoor living spaces for you. Our industry is all about being helping homeowners transition outdoors with entertaining value. If you are interested in revamping your Northern Virginia patio space, contact Distinctive Deck Designs today. We are now offering off-season construction deals for next season!