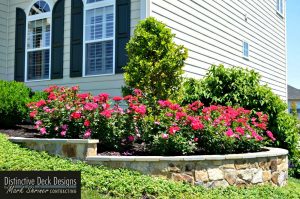 The importance of curb appeal should not be underestimated. After all, it's the first impression a prospective buyer has of your home. Fortunately, there's an easy way to boost the curb appeal of your Northern Virginia home: retaining walls.  Incorporating this feature into your landscape design brings together the entire aesthetic and helps regulate erosion. Here are some tips from our Fairfax, VA deck designers for using retaining walls to give your home's exterior a fresh new look.
Draw Eye Upward Towards Home Features
Retaining walls do more than protect your home and landscape from soil erosion. They create zones perfect for gardening, entertaining and other outdoor living opportunities. In the photo below, you can see how the retaining wall creates a tiered garden that banks right up alongside the house. It draws the eye upward and shows off how the plants complement the whole of the home. As an added bonus, this retaining wall provides plenty of gardening opportunities to experiment with plant height, fullness and color.
Defines Zones to the Landscape
The right kind of hardscape design can set your Northern Virginia home apart from the rest of the neighborhood. Use pavers and stone to establish a clear path to your entertaining zones, such as a patio, fire pit, covered porch, or steps leading up to the front door. If you are unsure about which stone pavers are right for your home, consider consulting with an experienced patio contractor near you.
Establishes Height and Depth to Long or Hilly Yards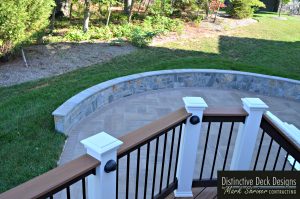 Some properties in the Northern Virginia area feature hills and sprawling lawns that make it difficult to tell where one property ends and another begins. Retaining walls make it easy to segment your yard from your neighbor's while taking advantage of the hilly areas to emphasize certain features of the landscaping. You can also surround the property with a short stone wall or wooden fence for extra pizazz.
Creates Outdoor Lighting Opportunities
Exterior lighting is used to keep the area bright even at night, as well as accentuate certain features, such as tree beds and curbs. You can also incorporate lighting on a retaining wall to add extra drama to a landscape. Installing outdoor lighting can also serve as a safety and security feature, deterring burglars and making it easier to watch your step when you're walking to the front door.
If your yard needs a makeover, contact our hardscape landscaping team for a free initial consultation. Mark Shriner and his team promise to deliver the curb appeal of your dreams, and we know our work will increase the value of your home, potentially by thousands of dollars. Get in touch with us online or by phone today: 703.263.9634.