As Northern Virginia deck builders, we know that color is often one of the most difficult decisions to make when deciding on a deck design. When you live in a HOA community, your choices are limited and can alter your overall design. For those who do not live in a HOA neighborhood, the color and design options are limitless. This is a blessing for creative personalities and a curse for the indecisive.
One of the top questions we receive is whether the deck has to match the home's color scheme. If you live in a HOA community, the answer is often yes to avoid experiencing HOA committee rejections. Those in detached homes not in a mandated neighborhood have much more freedom.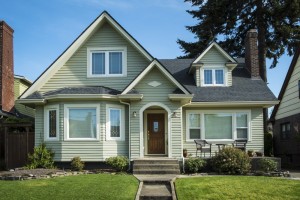 Northern Virginia homes in cities like Woodbridge, Fairfax, Centreville, Vienna and Ashburn range in style, including:
Colonial with red brick and white trim accents
Victorian with architectural interest and many roof peaks; these are often earth tones and accented with decorative white trim
Craftsman with vinyl siding and thick trim colors ranging from white, grays and browns
Two or Tri-level story homes, often accented by vinyl siding in neutral tones and white accents
It's rare to see a ranch-style home in Northern Virginia suburbs, but when we do, they are often at opposite ends of the color spectrum. Some channel the rich, bold tones, while others are the sheer definition of neutral.
How do you create a deck design to be cohesive these different home styles?
The first step is to determine your deck size. Our deck contractors work with homeowners in and around Fairfax. We work with homeowners to build any size deck to help maximize home resale value and usable outdoor living space. The smallest deck should still be as large as the smallest bedroom in the home in order to fully maximize the resale value.
The type of deck matters, too. You have the choice between platform, upper tier raised with posts right along the perimeter or inset from the perimeter, wraparound, and multi-level deck styles. Check out our blog on the five different deck types to learn more.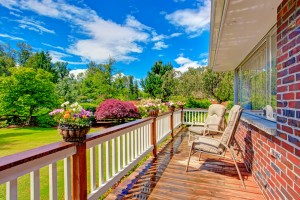 Your deck color scheme can make or break your entire design. It's okay to have a neutral tone home and warm, earthy colors for your deck flooring and railings. It works in this design! One of the most common choices among most Northern Virginia homes with decks is a rich, brown surface with while railings. This classic look works for platform, multi-level and cantilever decks.
If you have a brick-style home, you may even want to play with matching the mortar color in your railing or deck flooring. Don't worry if it's not an exact match because it will still help bring cohesiveness to your home's exterior design. Using an accent color that's already present in the home's exterior will help create a cohesive look and make it look like the deck was included with the home design from the time it was built. If your home has white trim, carry that through to your deck design.
Optional features that are great for Northern Virginia homes as recommended by our deck builders:
Step lights
Railing post outdoor lighting features
Decorative aluminum railings between deck posts
Decorative deck post caps for architectural interest
Built-in outdoor living storage
Are we raising more questions? We would love to answer whatever deck questions you may have! We offer a hassle-free on-site consultation that is completely free of cost to you. You can learn more about how the deck construction process works, and how we plan to execute magazine-worthy designs for your home. Request your consultation with our lead contractors today by calling 703.263.9634.