Our Deck Builders in Northern Virginia Tell You How to Get to Your Deck Color HOA-Approved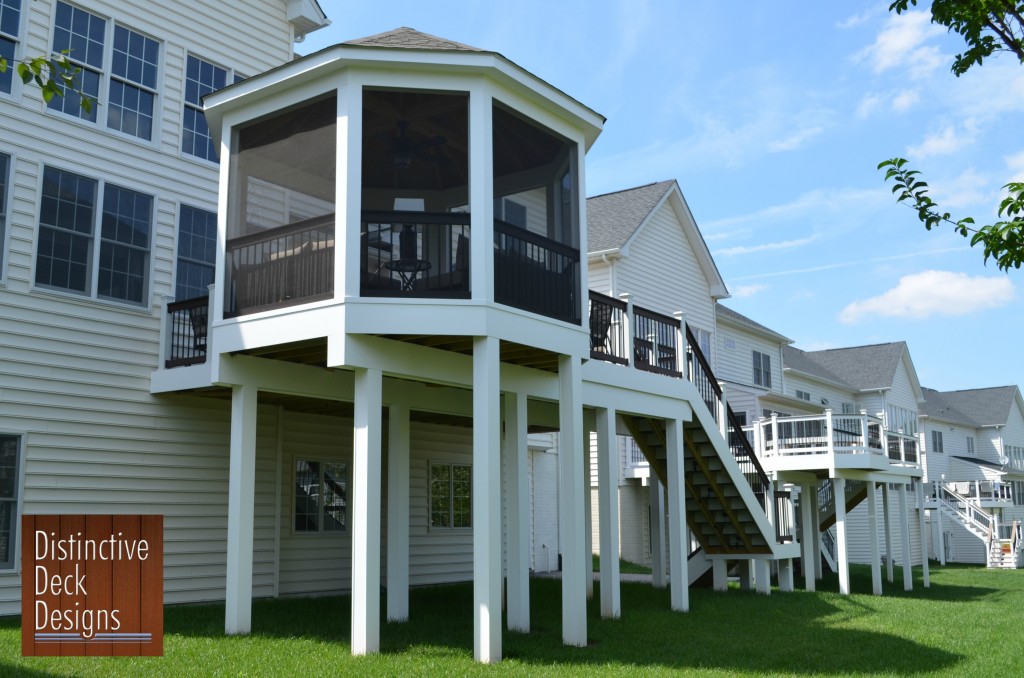 Your outdoor living space is an extension of you and your home. It is very important to let your personality shine. One way to do so is through color. If you live in the Prince William or Fairfax County area, you will find that HOAs tend to limit color choices for paint, composite decking, roofing shingles, deck railings, and much more.
That's where our deck builders in the Northern Virginia area can help. We have more than 20 years' experience with deck construction for homes throughout the entire Fairfax metropolitan area. You could even say we have years of experience dealing with HOA approvals and their detailed terms and conditions for homeowners.
Here are some tips when finalizing your deck design for your outdoor living space when dealing with an HOA.
HOA-Approved Deck Materials
In Northern Virginia, more homes are converting to composite decks. These are generally HOA-approved because they add home value and require less upkeep maintenance. The bonus selling point for TREX® composite decking is its eco-friendly composition.
HOAs want decks to be uniform in construction style and aesthetics. You will need approval by your local community committee for the following parts of your overall design: color tones and styles of deck flooring, railings, posts, caps, and outdoor lighting.
HOA-Approved Deck Colors
Composite decking and natural wood decks come in a wide variety of colors. Most are NOT approved by your local HOA. When visualizing and submitting your deck design to your HOA committee, we highly recommend sticking with neutral colors, like whites and beiges. Earth tones are generally accepted, while dark brown stains and grays are often rejected. Our deck contractors for the Fairfax metropolitan area use TREX® decking materials in the following finishes: Tree House, Rope Swing, Beach Dune, Saddle, and Classic White.
If color variety is absolutely important to you, we recommend thinking ahead towards your outdoor furniture accessories and coverings. Throw pillows and blankets come in a wide variety of colors and prints. These can all equally express your personality and be conveniently stored away when not in use to avoid HOA complaints.
HOA-Approved Deck Style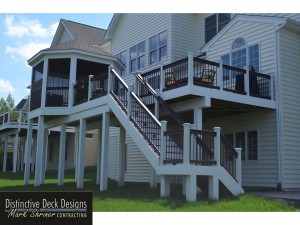 The number of stories in your home, as well as the slope of your yard, will affect the types of decks you can install. HOAs are usually accepting of decks extending from the second story to ground level.  Keep in mind that many associations are particular about stair style and railing options.
Multi-level decks and under deck conversions are less likely to be approved by HOAs. See our take on how the HOA approval process works for more information.
When you hire Distinctive Deck Designs, we can help you explore which options are likely to be accepted by your local HOA. We can help you prepare the documentation necessary for submitting your ideal deck design for approval.
If you are looking for the right deck builder for your Northern Virginia home, look no further than Distinctive Deck Designs. Operated by Mark Shriner Contracting, our deck experts are unrivaled in immaculate design. We build decks with the customer in mind, considering everything from light placement to storage. If you would like to learn more about how we work with HOA committees on your behalf, schedule your FREE consultation with Mark today!