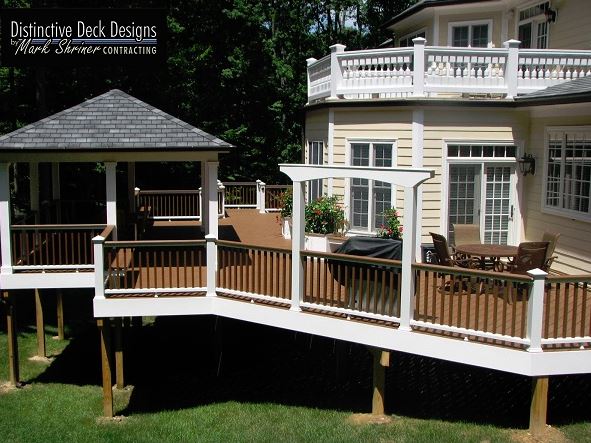 Winter is starting to wrap up in the Northern Virginia area, which means spring will be here in no time. Don't wait to start planning your custom deck and patio designs. Fairfax residents know that a well-developed outdoor space is perfect for relaxing in the sun or entertaining friends and family. We recommend taking a look at your current backyard layout to determine what works, what doesn't and what needs a little TLC before the new season starts.
Wear and tear. Next time the ground is clear of snow and slush, take time to examine your most used surfaces, like your composite deck or stone patio. Look for things like dents, cracks or major damages that could have occurred during a winter storm. Thankfully, composite decking is extremely durable and may only need minor repairs from season to season. If you find any issues, contact our contractors for quick repair.
High traffic areas. Every year you spend in your home is another year of trialand error when it comes to efficiency. One of the first things you'll notice isthe state of high-traffic areas used by your family. If you don't have definedpathways, you could start to see wear on your yard. We recommend adding in astone or paver pathway in these areas to keep your grass alive.
Entertainment space. One of life simplest pleasures is enjoying your favorite beverage or classic barbecue cuisine on your patio. Fairfax residents know how to relax, but only if you have the space to do so. We can help you eliminate unused space to maximize every inch. After our initial consultation, we'll create a custom deck design to incorporate plenty of entertaining space, from outdoor seating to the kitchen of your dreams.
Landscaping. One of the best ways to make your backyard feel like home is with live landscaping elements. Some updates are simple, like adding flowers, while others requiremore work, like adding trees, shrubs or planter boxes. Our professionalcontractors can make their best recommendations for creating a landscape designthat doesn't take away from your home or patio design.
Aesthetic updates. The start of a new season is the perfect time to update small, aesthetic items. From seat cushions to outdoor rugs, you can really bring your outdoor living area back to life with a brand new look!
Our experienced Fairfax patio and deck designers know that the structural elements of a home need to harmonize with the natural elements. We can help your family find the perfect balance as your gear up for warmer weather. Contact us today to schedule a consultation!