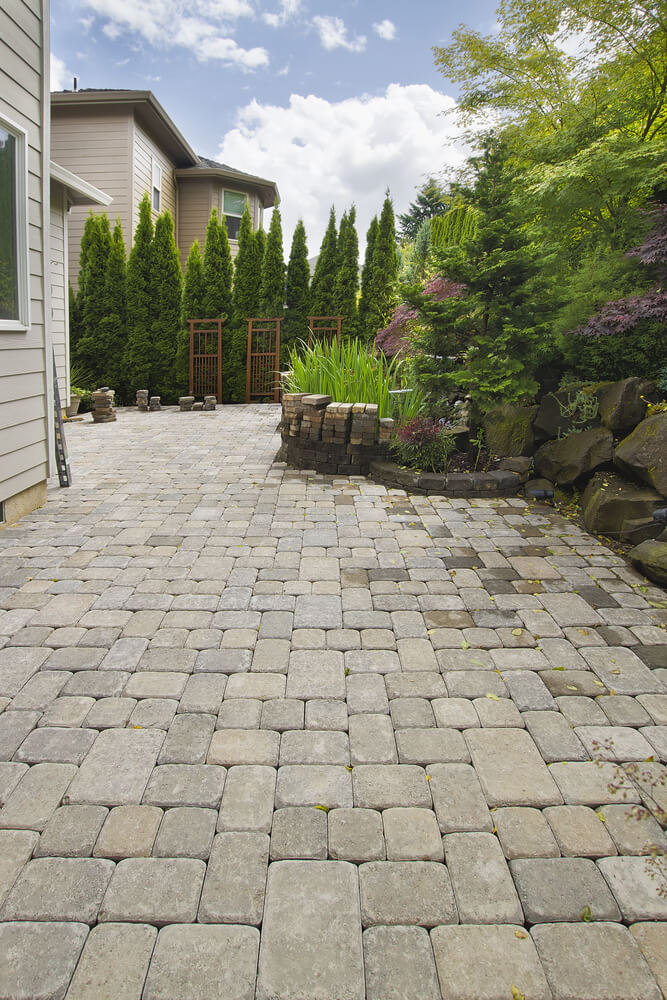 Are you bored with your backyard? Is it time for an upgrade from drab to fab? Creating a new, updated space in your backyard is a great way to increase the value of your home while elegantly and creatively accommodating features to enhance your lifestyle. Hardscape pavers are a quick, easy and artistic way to create the ultimate Northern Virginia backyard design.
Hardscape landscaping and patio pavers are a great way to modernize and give a clean finish to any backyard in Fairfax, North Virginia. Hardscape landscaping incorporates elements that can withstand high foot traffic as well as environmental conditions. Create a walkway through a garden with landscape pavers or a modern design around a pool or entertaining space with the many types of hardscape designs that our Fairfax-area masonry team can execute. You will be happy with the low maintenance and aesthetically pleasing aspects that accompany this type of backyard landscape design.
Over the years, hardscape pavers have come a long way from slabs of slate, flagstone or bricks. Today you can use permeable stones to drain excess water and choose from multiple colors, materials, shapes and designs to accommodate your backyard needs with ease. Want to try out a gray-blue color or mix and match stone for magazine worthy stairs? No problem! It can be done.
Still need inspiration? We have composed five of the best ways to use hardscape pavers to create a striking backyard design in your Northern Virginia or Fairfax home.
Walkways and creative spaces
Incorporating pavers into a walkway is an excellent and elegant way to enhance the aesthetics of your backyard space. Whether you want a narrow path from a gate to a patio or want to create a large paved space for entertaining, pavers are a durable application that is easy for our hardscape contractors to incorporate into your backyard. If you have a feature in your Northern Virginia backyard such as a fountain, pond, garden space, or statue that has become lost in the landscape, a great way to highlight some of your favorite backyard elements can effectively be achieved with engineered stone.
Functionally, pavers also make your backyard easy to access for guests, family members, and even pets! Landscape pavers made from flagstone, slate, and brick stand the test of time despite cold and humid conditions regularly experienced in Northern Virginia. If you are tired of foot traffic through your garden or lawn, a paved walkway designed by a hardscape architect is an excellent way to preserve your yard and direct traffic elsewhere.
Outdoor fire pits and fireplaces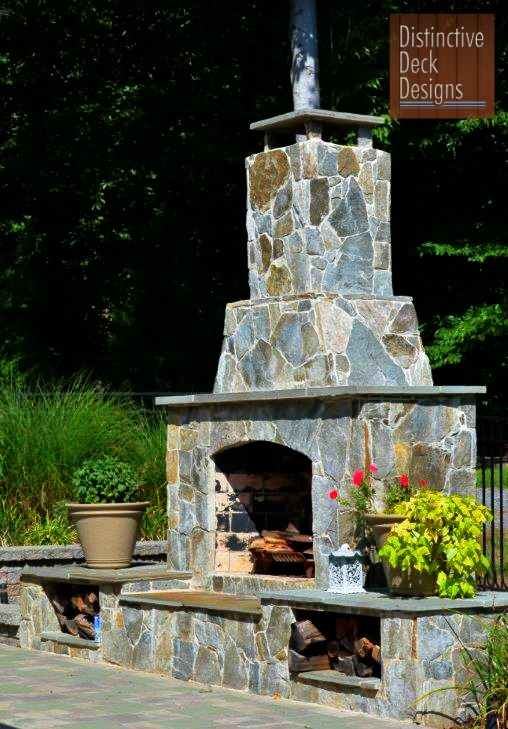 Who doesn't love sitting by the fire on a chilly night? Northern Virginia homeowners are warming up to the idea of incorporating a fireplace in their backyard design because of its benefits and aesthetic when combined with the rest of the backyard landscape. When you don't need to use a fireplace in the warmer months, use a sunken space or outdoor living room to entertain.
Use engineered stone to create outdoor entertainment spaces in Northern Virginia backyards and provide a welcoming and inviting space to sit, relax and enjoy the company of friends and family. A hardscape contractor will design an outdoor fireplace as a focal point of the backyard, often creating low walls and seating areas with landscape pavers with sharp edges or rustic charm to incorporate the style of your home into the backyard space.
Pool Decks and Surrounds
One of the best ways to utilize hardscape design is to create a smooth, flat, durable surface around your pool. Excessive moisture around pools can create cracks and flooding to a lawn or surrounding soil with most softscape landscaping designs. A creative and functional way to combat this issue is to install hardscape pavers around your pool and deck to maintain durability and maintain design features to enhance your pool or spa.
Brice and stone pieces are a great way to create a walkway from the patio to the pool while enhancing the area with a stylish border that highlights your fun outdoor pool and spa area. Wash off after an afternoon in the pool with a space designed for a quick outdoor shower with hooks to hang your towel and wet swimsuit. Our hardscape contractors want to make your living easy with designs that save you time and blend with your home's style.
BBQ Kitchens in Outdoor Patios
Summertime in Northern Virginia comes with backyard barbecues and outdoor entertainment. One of the best ways to create an inviting outdoor space for entertainment is to incorporate a hardscape patio that has a smooth, distinctive finish that will withstand foot traffic and highlight one of the most important features of your backyard.
Our hardscape contractors and architects can include pavers as pillars, seating, build a frame around your grill to boost your home's value, and help create delicious and fun backyard memories for years to come.
Retaining walls and natural slopes
Do you have a raised garden space or sloped backyard you want to contain and highlight? Create easy access to your natural landscape with patio pavers and raise garden beds with retaining walls to protect from pets and give you a way to move in and out of the spaces you frequently visit with ease.
Northern Virginia landscapes benefit from engineered stone by creating functional design and separating spaces with retaining walls, enhancing natural slopes and serving as a border around garden spaces. Elevated planters and lampshade posts are an incredible way to enhance your space by highlighting features you enjoy the most.
Our hardscape landscape contractors and hardscape architects at Distinctive Deck Designs are trained to design and execute your backyard landscape design ideas and turn your dreams into reality! Our experience and precision combined with your imagination and functional needs will absolutely turn your backyard into a dreamy oasis you will love and enjoy for years to come. Contact us today to tell us about your next backyard project with hardscape pavers, and we'll get started at your Fairfax County home!